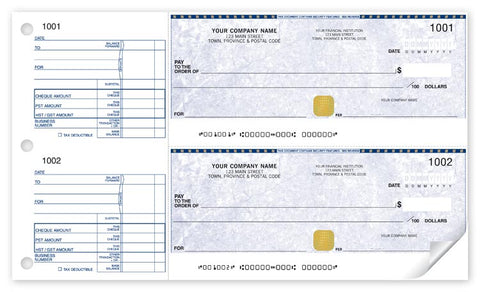 2-to-a-page Security Cheques
Available in Security Blue or Green.
These popular 1-to-a-page binder cheques help thousands of businesses pay & track expenses easily! Just copy cheque details to handy side tear vouchers for a permanent transaction record you can take anywhere.
CPA 100% compliant.
Microprinting-Tiny type in border on front will fill in when scanned or photocopied. Fibres & Security Ink-Coloured fibres on front are visible only under black light. Security Screen-"ORIGINAL DOCUMENT" text & weave pattern visible on back.
LineMark Paper-Patented fibre disruption process. Chemical Protection-Special chemical indicators in the paper appear as stains if exposed to common ink solvents. TonerFuse Coating-Anchors dry toner images to resist alteration.
HOLOGRAM-Multicolour reflective marker fused to each cheque.
Dimensions:  11" x 6 1/2"
---
We Also Recommend